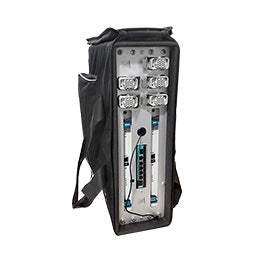 Portable Condition Monitoring System (XMV16)
The portable condition monitoring system (CMS) developed by Istec International contains analysis cards for the (temporary) performance of vibration measurements on machines, after which the specialist can perform a vibration analysis. The measuring system contains an XMV16 and an XIO16 card; this card pair has 32 dynamic and 4 tachometer channels. These cards provide all necessary interface functions and the processing of the measurement signals. The portable system has been specially developed for use in industrial environments where robustness and mobility are essential. Thanks to the strong housing and handy carrying straps, the specialist can easily move the system.
Analysis cards
The XMV16 condition monitoring card forms a pair with the XIO16T input / output card. This card pair provides all necessary interface functions and the processing of signals. The maps are read with VibroSight software, with which data analyzes are done.
In short:
For fast condition determination through vibration analysis
Can be used both horizontally and vertically
Robust and sturdy design, resistant to shocks
Operates on AC and DC power