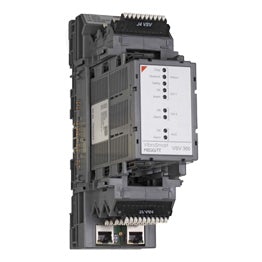 Trillingsbewaking (distributed) – VSV300 VibroSmart
Let op: dit product is vervangen door de VSV301 »
Het VibroSmart distributed monitoring systeem van Vibro-Meter (Meggitt) bewaakt turbines en andere kritische roterende machines en stelt de gebruiker in staat om op een kosteneffectieve manier meer machines te bewaken, zonder af te doen aan de performance. Het systeem heeft een distributed architecture, waardoor het bijzonder geschikt is voor grote of uitgestrekte plants of afgezonderde machines.
Modulair, schaalbaar en flexibel
De VibroSmart monitoring solution biedt dezelfde solide machine bewaking en condition monitoring als het gecentraliseerde systeem VM600 maar een veel flexibelere architectuur. De modules worden direct bij de machine geplaatst, waardoor kosten voor infrastructuur beperkt blijven. Daarnaast is het systeem eenvoudig uit te breiden met meer modules in het veld.
Het VSV300 zorgt voor de data acquisitie en de signaalverwerking (filtering, analog-to-digital conversie, time and frequency domain processing en resampling) noodzakelijk voor het genereren van processed outputs en data voor output en display in het VibroSight softwarepakket.
Features
VibroSight® compatible hardware from the Vibro-Meter® product line
2 individually configurable dynamic input channels with up to 19 kHz bandwidth
1 auxiliary input channel, including tachometer
Synchronous sampling of input channels
Up to 20 configurable processed outputs per module
Spectrum analyzer (FFT) up to 1600 lines every 1 s
Up to 4 alarms per processed output, with hysteresis and time delay
AND, OR and majority voting logic functions for the combination of alarm and status information for a module
Redundant communications and redundant power supply inputs to improve availability
Analog outputs: 2 local outputs configurable as either 4-20 mA or ±5 V
Discrete outputs: 2 local SPDT relays
Real-time Ethernet communications
Live insertion and removal of modules (hotswappable) with automatic reconfiguration
Fully software configurable
Robust enclosures with DIN rail mounting adaptor (on terminal base)
Let op: dit product is vervangen door de VSV301 »
In het kort:
Gedistribueerd trillingsbewaking-systeem voor turbo-machinery
Modulair, schaalbaar en configureerbaar
Data uit te lezen via VibroSight software
Ook te gebruiken voor condition monitoring
Downloads
Automatisch de door jou gekozen bestanden naar je e-mail laten verzenden? Klik op het map-icoon om de download toe te voegen aan jouw map, en verstuur ze door rechtsonder te klikken.
| | | |
| --- | --- | --- |
| datasheet | Vibro-Meter – VSV300 | |
| brochure | Vibro-Meter – Knowledge is power | |
| brochure | Vibro-Meter – Gas turbine sensing and monitoring | |
| brochure | Vibro-Meter - Sensors and measurement chains for turbomachinery | |