CPI and Istec have started a collaboration to monitor and control reciprocating compressors in the Benelux. Both parties deal with the operational availability and efficient maintenance of reciprocating compressors from their own expertise.
CPI has thorough mechanical knowledge of compressors and extensive practical experience. In combination with more than 100 year of existence, this makes CPI a renowned party for performing field service and delivering solutions for reciprocating compressors. CPI offers services and equipment to maximize the availability of reciprocating compressors and increase control and safety of the plant.
Istec is specialized in monitoring and protecting mechanical behaviour of industrial installations. In this collaboration, the company delivers sensors and measurement systems to monitor reciprocating compressors. The measurement data is used to gain more insight into the condition of the machine.
Central to the collaboration is the RecipSys 200, the rod-drop monitoring system developed by Istec. The RecipSys 200 offers a modular, cost-effective solution to monitor wear on reciprocating compressors. The system provides essential monitoring on rider bands and consequently contributes to predictive maintenance strategies. The modules have been developed for scalable use on both small and large machines and can easily be expanded with other critical measurements such as valve temperature, vibration or impact, for a complete monitoring solution. These solutions offer a competitive and flexible alternative to traditional measurement systems.
The collaboration between Istec and CPI aims to provide users with important machine data in an accessible way. Subsequently, this data is used to more effectively fulfill management and maintenance requirements of reciprocating compressors.
Triggered Rod Drop Module – RecipSys 200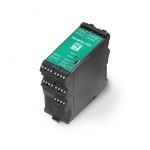 The two-channel Triggered Rod Drop Module (RecipSys 200) is developed by Istec International and is suitable for monitoring the condition of rider bands of the piston of a reciprocating machine. "Triggered" means that the rod drop measurement takes place at a fixed point during the revolution of the crankshaft. As a result, a reliable trend can be made in due course. Many existing rod drop systems are part of a larger system that is suitable for large applications, and therefore require a cost-intensive investment. The RecipSys 200, on the other hand, is very cost-efficient and therefore applicable to small, medium and large applications.