In August 2019, Meggitt emphasized its commitment to the Vibro-Meter VM600 by confirming that it will support the system in the form of further development, customer support, repairs and the development of spare parts for at least the next 10 years (until 2030).
Continuous development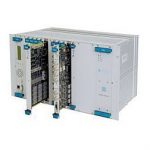 Since the first installation in 2001, tens of thousands of Meggitt (Vibro-Meter) VM600 systems have been installed worldwide for machine monitoring and condition monitoring applications. The high quality, reliability and performance of the VM600 solutions are therefore recognized worldwide. Although the system is in the mature phase of the product life cycle, the system is designed to be flexible and modular so that technical developments can continue to be built on continuously. This allows Meggitt to guarantee support and maximize the life of the VM600.
View official publication (PDF) »
Istec Response™ for VM600
Istec Response ™ is a unique, brand-independent service concept for monitoring and monitoring systems of rotating machines. With Istec Response, maintenance teams can transfer the management of complex systems, such as the VM600, to a team of specialists. Accessibility and flexibility are central and this is reflected in all critical aspects; from the selection and implementation of suitable (SIL) hardware to maintenance, validation and troubleshooting of these systems during turnarounds.