Safety by design
The simple and robust design of SpeedSys 200 meets the latest safety standards, and features easy maintenance and long proof test intervals.

Any configuration
The overspeed detection system is compatible with all sensor types and applicable in any environment, making it easy to install and retrofit.

Scalable system
SpeedSys 200 is modular and scalable to fit any application; from low impact stand alone configurations to multiple module voting structures for increased safety or availability.
"Game changing innovation for SIL rated overspeed protection

"
Design concept
SpeedSys 200 is designed as an independent layer of protection; to be fundamentally simple and robust. It delivers fast and reliable protection for speed and acceleration and complies to the industry standards.
A separate monitoring module can be added to include extensive monitoring and connectivity features to the configuration.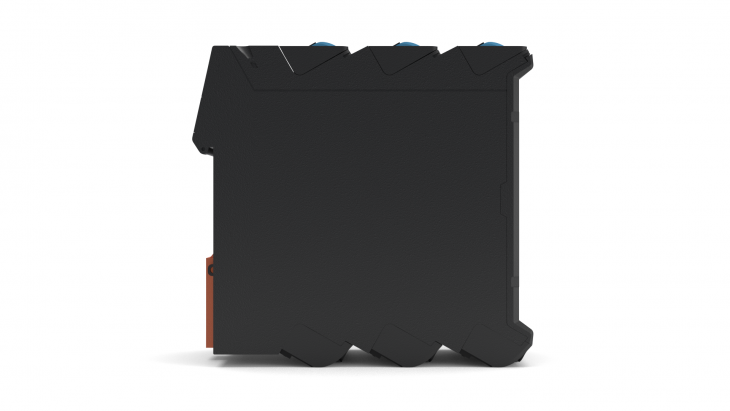 Applications
The system architecture is designed to suit a wide range of applications. A single module can offer a reliable and economical solution for overspeed protection. Redundancy and voting structures can be created for more demanding applications or increased availability. Typical applications include:

■ Micro turbines
■ Wind turbines
■ Compressors and pumps
■ Aeroderivative gas turbines
■ Gas- and steam turbines
■ Marine applications
Features
Certified safety
SpeedSys 200 has been designed to meet the requirements for SIL 2 certified overspeed protection, featuring fast reaction times, advanced self-monitoring with long test intervals and sufficient safety outputs.
Designed for versatility
The system has a small technical footprint that can be used in field enclosures or in control rooms, and industry standard in- and outputs for easy integration and retrofitting.
Isolated inputs
Isolated inputs eliminate the need for separate isolators or barriers in the field, reducing failure modes and increasing sensor monitoring functions.
System
System features
SIL 2 certified protection
8 ms system response time
2 safety relays + 1 safety analog output
Suitable for Hall-effect-, electromagnetic- or proximity sensors
ATEX/IECEx Zone 0,1,2 (Ex ia) isolated inputs
Advanced self-monitoring and diagnosis
10 year proof-test interval (typical)
External voting for redundant configurations
Standards
API 670
API 612
IEC 61508, SIL 2
Online training
Follow our online video training to fully understand the SpeedSys 200 and its software. The training includes short videos covering the installation, connectors, configuration, and a comprehensive overview of the software.
This training provides an accessible way to familiarize yourself or your team with the Istec SpeedSys 200 overspeed detection system.
The FT3000 overspeed protection system, formerly supplied by the Jaquet Technology Group (now: TE Connectivity), has been discontinued by the manufacturer. Its obsolescence affects many end-users as the Jaquet FT3000…
The API Standard 670 is an industry standard and describes the minimum requirements for a machine protection system (MPS). This includes, measuring radial shaft vibration, casing vibration, axial shaft position,…
End-users that operate (critical) rotating machinery have a legal obligation to implement a suitable and verifiable safety instrumented system (SIS). Safety Integrity Level (SIL, IEC 61508), one of the more…