Replacing a Jaquet FT3000 ODS with a SpeedSys 200 ODS on a combined cycled gas turbine (CCGT)
Vattenfall operates a combined-cycle gas turbine at an energy plant in the Netherlands. The gas turbine is driving a generator to generate power and heat for the district heating of the city of Almere.
A Jaquet FT3000 overspeed detection system (2oo3) was used for overspeed protection on the machine. The system received speed inputs from eddy current sensors.
The FT3000 system was recently discontinued by its OEM, as a result of which spare parts are no longer available. Due to this obsolescence, Vattenfall was looking for a replacement solution. Vattenfall decided to replace the FT3000 system with the Istec SpeedSys 200 system.
Challenge
Vattenfall was looking for a 1-on-1 replacement solution, that required none or minimal infrastructural changes. This required Istec to install the three SpeedSys 200 units (2oo3) in a 19"rack, as opposed to a DIN-rail installation.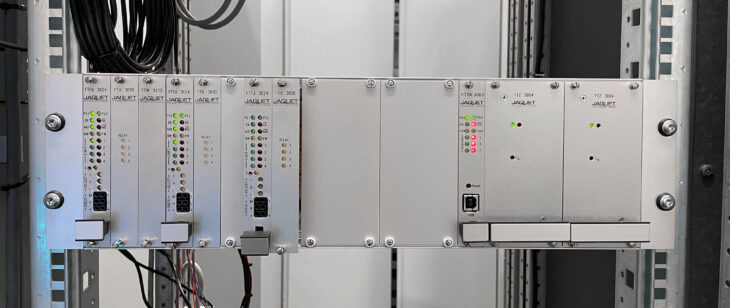 Solution
Istec has pre-engineered the three SpeedSys 200 units in a 19" rack, which included displays to visualize the speed readings.
Read more about the FT3000 rack replacement » 
Istec carried out the installation, which took about 2.5 days with two engineers. This included the installation of the new rack system, IQS900 drivers, GSI 127 units for signal stability, and the replacement of the previous SKF eddy current probes for new Meggitt TQ412 eddy current probes at the same mounting location. Istec has also conducted extensive overspeed testing and adjusted the parameters accordingly until the system functioned flawlessly.
Deliverables
1-on-1 replacement solution that required minimal infrastructural changes
Full scope supply and support of speed hardware and installation
The SpeedSys replacement solution covers all of the core functions of the previous installation
Fast troubleshooting, delivery, installation and commissioning
SIL2 certified overspeed detection system with a proof-test interval of 10+ years
Impact
With the newly installed SpeedSys 200 system Vattenfall has a reliable overspeed detection system with a proof-test interval of at least ten years. The strong involvement of Istec engineers helped to alleviate any concerns of the customer. The replacement of the FT3000 system with the SpeedSys 200 system was successful, and benefits the reliability and availability of the combined-cycle gas turbine.