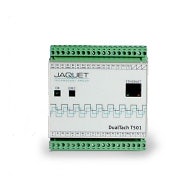 Note: The T501 has been declared obsolete and is no longer available; the SpeedSys T20 (2-channel) or SpeedSys T30 (3-channel) offer a functional replacement.
The Jaquet T501 (previously T500) is a two-channel tachometer for demanding machine monitoring applications. The unit has a measuring range of 0.025 Hz to 50 kHz and gives a 4-20 mA output signal that can be configured via the supplied Windows software.
Input and output signals
2 frequency inputs (speed signals) and 2 binary inputs.
2 analog outputs, 2 open collector outputs and 4 relays.
Features
The T501 has programmable logic, diagnostic functions and measurement functions, a fast response time of 8 ms and contains 4 parameter sets with 6 system limits each for virtually unlimited applications.
Similar product
---
Serial numbers
384Z-05600 (T501.50)
384Z-05601 (T501.10)
In short:
Converts speed measurement to analog signal
Compatible for all popular sensor types
2 analogue outputs
4 relays
Downloads
Want to receive multiple files to your email? Click on the map-icon to add the download to your folder, and send them by clicking on the bottom right.
| | | |
| --- | --- | --- |
| brochure | Jaquet – Company Brochure | |
| brochure | Jaquet – Speed / Overspeed Brochure | |
| datasheet | Jaquet T-501 – Product Sheet | |
| manual | Jaquet T-501 – Manual | |