In this article, we will explain Meggitt Vibro-Meter's motives to launch a new and improved second-generation version of the VM600 system; the VM600Mk2. The VM600 is the flagship solution for vibration protecting and monitoring on critical rotating machinery.
Despite the VM600's extensive range of features and impressive track record of innovation, you may be curious as to why the development of a second-generation was deemed necessary. There are multiple reasons that we will discuss in this article.
Go to the VM600Mk2 product page » 
Cybersecurity
When the VM600 was first designed, the internet was less than a decade old, and no one had even considered the possibility that industrial instruments and automation systems could be sabotaged through this global network infrastructure. However, over the past 22 years, everything has changed. Cybersecurity is now a top concern for customers, including those in the power generation sector.
The power generation sector faces particular risk because vulnerabilities in the generation, transmission, and distribution infrastructure can have far-reaching consequences. Moreover, cyberattacks are not limited to conventional computer systems but can also target industrial control and automation platforms such as SCADA systems and PLCs. Several high-profile attacks, including the Aurora Generator Test and the Stuxnet worm, have demonstrated the real-world impact of these attacks. As a result, cybersecurity has become a primary concern for customers, and the VM600 requires a new generation of modules to address these vulnerabilities, despite its ability to segregate protection functions from condition monitoring functions.
Integration
Integration was a challenge in the legacy VM600 architecture, as there was no communication between the protection and condition monitoring environments. While this was desirable from a cybersecurity standpoint, it made it difficult to view the status of protection system alarms from within the condition monitoring software. Additionally, the same measurements were generated in each path but could be slightly different due to different circuitry in different cards. This made it hard to create accurate sequence-of-event reconstructions, as the protection alarm archive had to be accessed separately from a condition monitoring alarm archive.
To address these issues, a next-generation system needed to have a unified environment for viewing protection and condition monitoring statuses and information, as well as the ability to reuse similar or identical configuration settings from the protection environment into the condition monitoring environment. This has been successfully implemented in the VM600Mk2, while adhering to the requirements of the API 670 guidelines.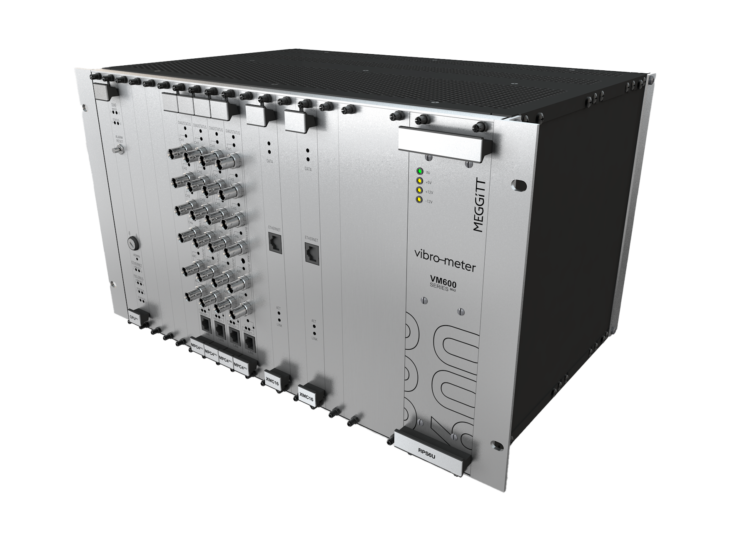 Component availability
The lifespan of hardware in machinery protection systems is usually 15-20 years, with a phased obsolescence period to replace the aging system. During this time, it is necessary to ensure that spare parts remain available while maintaining hazardous area approvals and SIL certifications. While replacing electronic components on circuit boards may seem like an easy solution, it may not be possible if there are no form/fit/function replacements available.
Moreover, even if replacements are available, resubmissions to certification agencies may be required. Even with last-time buys of components secured to meet future demand, the situation can become unsustainable, and eventually, the need to introduce a new platform becomes inevitable. However, manufacturers view this as an opportunity to provide additional functionality and value since new customer needs may have arisen during this period. This is the case with the VM600 platform.
Avoiding "rip and replace"
Introducing a new platform presents the challenge of avoiding "rip and replace" requirements. Customers are not happy when they're told that they must remove the old hardware completely and replace it with new hardware. This is even more the case when the new system is substantially different from its predecessor, making it impossible to reuse wiring connections, panel cutout and mounting dimensions must be modified, different software must be used, or even the power and ventilation requirements must be changed.
From a manufacturer's standpoint, "rip and replace" is also undesirable because it makes it as easy and cost-effective for customers to switch to a different supplier as it is to stay with the existing supplier. Backward compatibility with the previous platform is therefore in everyone's best interest, while also introducing necessary improvements to address the continuously evolving list of customer needs.
Meggitt Vibro-Meter ensured that existing customers would not have to face inconvenient "rip and replace" methods when installing the second-generation VM600.
In short
The launch of the second-generation VM600Mk2 system by Meggitt Vibro-Meter addresses several key factors. The evolving landscape of cybersecurity, with increasing concerns about industrial sabotage, necessitated the development of modules that could effectively mitigate risks. Integration challenges in the legacy architecture were resolved by creating a unified environment for viewing protection and condition monitoring statuses. Additionally, the availability of components and the need to avoid complete hardware replacement were carefully considered, ensuring backward compatibility and rewarding existing customers. With the VM600Mk2, Meggitt Vibro-Meter provides an improved solution that meets customer needs while addressing emerging challenges.
Learn more about the key differences between the first-generation and the second-generation VM600 »