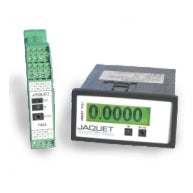 The Jaquet T401 single channel tachometer speed switch is part of the T400 series for speed measurement, switching and indicating. The T401 converts absolute speed into an analog signal and has a measuring range between 0-1 Hz and 0-35 kHz. It includes 2 limits (A/B) with programmable hysteresis and one changeover relay. The adaptive trigger provides high noise immunity for use with e.g. electromagnetic sensors. The T401 can be configured via the included Windows® software.
This tachometer is also available with a display (type T411).
Similar product
---
SIL of ATEX requirement? Check SpeedSys 200 »
In short:
Converts speed signal into analog signal
Compatible with all common sensor types
1 analog output
1 relay
Downloads
Want to receive multiple files to your email? Click on the map-icon to add the download to your folder, and send them by clicking on the bottom right.
| | | |
| --- | --- | --- |
| brochure | Jaquet – Company Brochure | |
| brochure | Jaquet – Speed / Overspeed Brochure | |
| datasheet | Jaquet T-401 – Product Sheet | |
| software | Jaquet T-400 series V1.16 – Configuration software | |
| software | Jaquet T-400 series V1.18 – Configuration software | |