The production process of plastic granulate starts with transporting the raw material to an extruder. In the extruder, the raw material is mixed with various additives, making the end product usable for various types of applications. After the extruder, the granulate is sieved so that a homogeneous granulate is created, after which it is put into a silo via a screw conveyor. The goal of the customer was to continuously gain insight into how much plastic granulate is being moved in order to determine how many of the additives must be added.
Process data
Customer: Manufacturer of plastic granulate (Germany)
Material: Plastic granulate with various additives
Quantity: 150 – 750 kg
Conveying element: Double flange slide after silo
Installation: In free fall, approx. 500 mm after a double flange slide
Pipe diameter: DN 80
Solution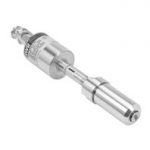 The SolidFlow 2.0 was used to monitor and measure the quantities of plastic granulate. This sensor continuously measures the amount of a solid that passes during free fall or pneumatic transport (up to 20 tons per hour).
In this application, the sensor is placed in the free fall section after the medium has passed a double flange slider. With this it can be determined how much of the medium passes, so that the addition of the additives can be adjusted accordingly. Previously, all materials were weighed with scales prior to the process, which was very time-consuming for employees.
Now that the SolidFlow 2.0 is installed and automated, the process can continue continuously and smoothly and employees can be deployed more efficiently because they are no longer burdened with this time-consuming work.
Customer benefits
Continuous mass flow measurement for optimizing the addition of additives
Easy installation
Low maintenance costs
Easy calibration
No contact with the medium