Rotating machines are often very critical to process plants. The reliability and availability of these machines must be guaranteed at all times, as failure to do so may have catastrophic consequences. To achieve this, the condition of the machine must be carefully monitored for significant changes in "machine behavior", also known as Condition Monitoring.
There are various methods to determine changes in machine behavior, such as oil analysis, vibration analysis, infrared thermography and ultrasonic measurements. At Istec we focus on vibration analysis because this is the most reliable, cost-effective and commonly used method for condition monitoring. In addition, developing failures on rotating machinery are often first visible through vibration measurements (see graph below).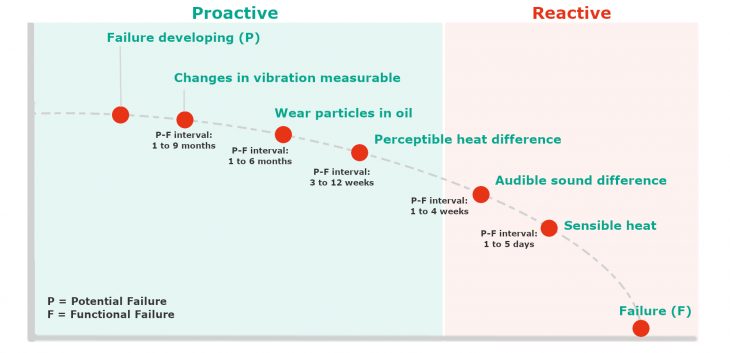 P-F interval
The graph above is a visual representation of the point at which a failure is developing (potential failure), up to the point that a failure actually occurs (functional failure). The points in between indicate what is going on in the process leading to the occurrence of a failure and how long it will take until the actual failure.
Measuring and analysing machine vibration provides clear insights of the current condition of the machine, and of the long-term vibration "behavior". The early failure of rotating machines can lead to significant financial consequences due to unplanned downtime and possible damage to the machinery. Vibration measurements make it possible to apply Condition Based Maintenance (CBM); a predictive method in which data analyses and data trending are used to determine potential maintenance requirements at an early stage.
Main benefits of Condition Monitoring
Monitoring rotating machinery has many advantages regarding safety, control and (cost) efficient, amongst which:
Condition monitoring makes it possible to detect machine-related issues before they become major issues, which may lead to catastrophic failures. Moreover, the nature of the problem can be quickly identified. The required maintenance is significantly cheaper in an early state at which problems are discovered when using a condition monitoring system, than when they are discovered in a later stage.
Condition monitoring benefits maintenance planning. Because errors can be detected at an early stage, it is possible to plan the necessary maintenance in advance. The early detection of developing errors allows us to plan required maintenance activities during a stop that was already planned. This will decrease maintenance costs significantly and contributes to a stable process.
Reducing inventory costs (spare parts) because machine parts can be ordered well in advance.
Increasing the lifespan of machinery while avoiding unplanned downtime.
Condition monitoring supports predictive maintenance to machinery. Read more about predictive maintenance here »
Main benefits of vibration measurements
Problems that can be prevented by performing vibration measurements are:
Serious machine damage due to late problem detection
High costs caused by unplanned maintenance requirements
Unplanned downtime caused by an unexpected shutdown
Quality problems in produced products due to an machine error or defect
Increased energy consumption due to excessive vibrations
Istec International
Istec has several vibration specialists who are ISO-18436-2 level 3 and level 4 certified, meaning that we can proudly call ourselves the largest and highest certified independent vibration specialist in the Netherlands. We offer the following services and instrumentation in the field of vibration measurements, condition monitoring and vibration protection:
Turnkey solutions for the implementation of condition monitoring systems in current instrumentation cabinets (brand-independent).
Designing and building complete instrumentation cabinets for vibration (or overspeed) protection, including condition monitoring cards.
On-site vibration measurements with the best available and most reliable equipment on the market.
Periodic,- remote– and continuous vibration measurement solutions.
Vibration analyses and extensive advisory reports.
The most (cost) effective, reliable and wide range of vibration sensors and transmitters.
Do you have a question about our services and/or instrumentation solutions? Get in contact with a specialist!