Any speed function
The SpeedSys T20 provides overspeed, underspeed and acceleration protection, and has extensive monitoring functions, including dynamic sensor monitoring (comparing channels), reverse rotation, creep and standstill.
Standalone protection & monitoring
The system has redundant inputs for direct sensor connections and digital input signals, a redundant power supply, multi-channel integrated switching, and Modbus TCP & RTU communication.
Small technical and financial impact
The SpeedSys T20 is a DIN-rail module that provides a cost-effective solution for speed monitoring functions on rotating machinery.
Design
The SpeedSys T20 has four relays (two alarm relays and two trip relays). The system accepts signal inputs from variable reluctance (electromagnetic) sensors, Hall-effect sensors, and digital input signals from speed encoders.
Due to its compact design the T20 has a small technical footprint and features a low-impact installation. The T20 comes with easy to use push-in connectors and is mounted on a DIN-rail.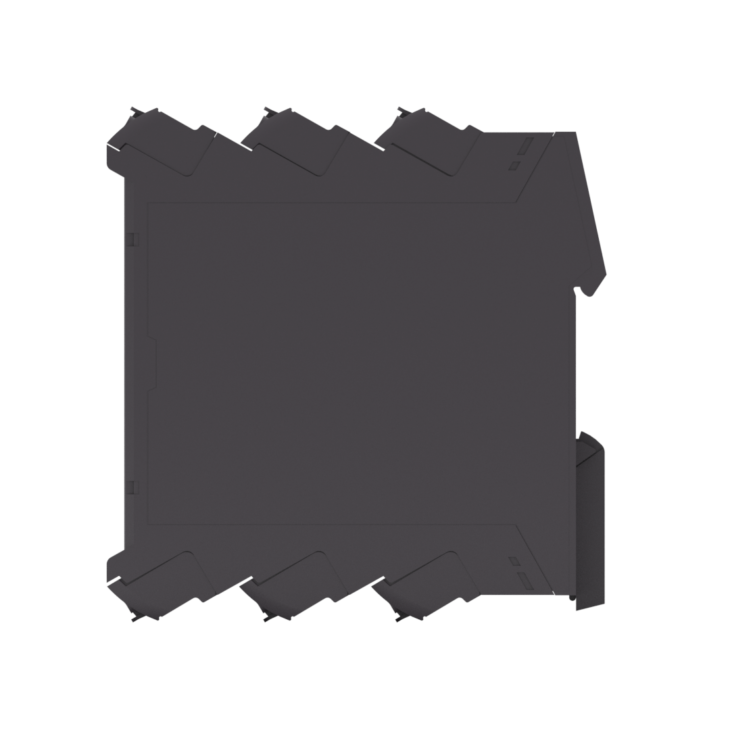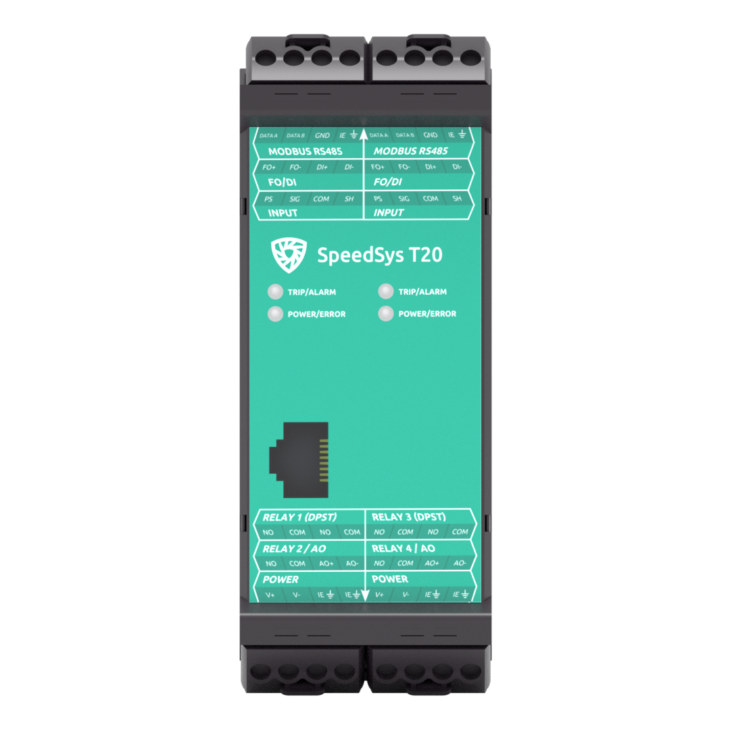 Applications
The SpeedSys T20 is used as a 2-channel monitoring and switching device for speed conditions on rotating machinery. Typical applications are: 
Aeroderivatives

Micro turbines

Wind turbines

Gas- and steam turbines

Hydro turbines

Compressors

Expanders
Features
Redundant input channels
The SpeedSys T20 features redundant input channels, making it suitable for speed protection and monitoring.
Multiple input signals
The system can process input signals from variable reluctance sensors (electromagnetic) and Hall-effect sensors, and digitale input signals from speed encoders.
Industry standard outputs
The SpeedSys T20 connects every common speed function to any industry standard output.
System
System features
2 independent channels
Redundant sensor inputs
Redundant power supply
4 high speed relays

2 configurable trip relays (DPST)
2 configurable alarm relays (SPST)
Fast 8 ms hardware response time (relays)
Highly accurate analog signal (4-20 mA)
Signal filter and line amplifier
Similar products
SpeedSys
SpeedSys is a family of (SIL-rated) protection and monitoring systems for rotating machinery that deliver advanced monitoring and protection on speed functions.
SpeedSys Tx0-series (non SIL)